13 Jan

'Morralla', an essential ingredient in Ibicenco cuisine

The most valued varieties of fish of the Pitiusan sea are grouper, John Dory, red porgy, dentex, large-scaled scorpionfish… Rockfish large enough to be cooked whole in the oven or slice it into smaller pieces for a fish stew or a rice-based seafood dish. Also they are the most valuable species at the fish markets and fishmongers, and which usually adorn the glass cabinets of restaurants, such as at Es Torrent. Those who live on the island or visit regularly and appreciate Ibiza's popular cuisine learn to recognize them quickly. Contemplating the arrival of the 'llaüts' to the fishing ports of the island and watching how they unload the boxes full of these beautiful sea species is a spectacle that everyone should enjoy at least once. To us it is still exciting to see the fresh catch of the island that arrives every morning still alive.

However, as important as these large fish varieties are also the smaller rockfish species. Many of these fish are large headed in relation to their body and with many thorns, but with an intense and concentrated flavor. They are a vital component of the broth that is used for cooking the typical large seafood dishes of Ibiza: 'bullit de peix', 'guisat de peix', 'arroz a banda', 'paella' and 'fideuá', among others.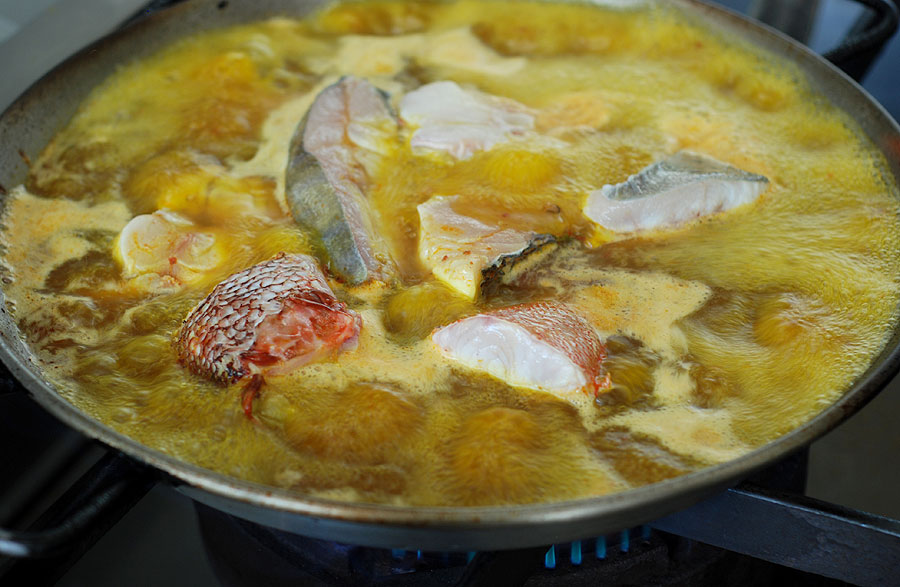 These small rockfish are included under the name of 'morralla' (whitebait) and sold in the fish markets by weight and all mixed together. Most of them are laborious to eat, though are exquisite simply floured and fried in a pan with plenty of oil. Among the most common types of morralla are the comber, painted comber, Atlantic stargazer, greater weever, Mediterranean rainbow wrasse, rock fish, piper gurnard and salema, as well as gilthead seabream, common seabream, large scaled scorpionfish, axillary seabream and small varieties of meagre. Sometimes we also find among the morralla some shellfish such as crabs and shame faced crabs.
Each local chef has its favourite varieties of morralla for making a good broth. At Es Torrent we like most of them, especially the painted comber, as an excellent broth is achieved from the variety. In addition to these examples, there are other fish in Ibiza not sold as morralla but with which delicious 'fumets' can be made as well. The most important of these is probably the picarel, which in local houses is also usually prepared marinated in 'escabeche', and the moray, resulting in a very distinctive flavored broth.
When preparing a fish broth base for a seafood dish, first the fish is well sautéed and then some water and vegetables is added. It doesn't matter if it crumbles because that way all its essence is extracted. The result is a whitish broth with a unique flavor. When the dishes arrive at the table, the main fish are others, but without the essence of the morralla, it wouldn't be the same. Bon Appetite!